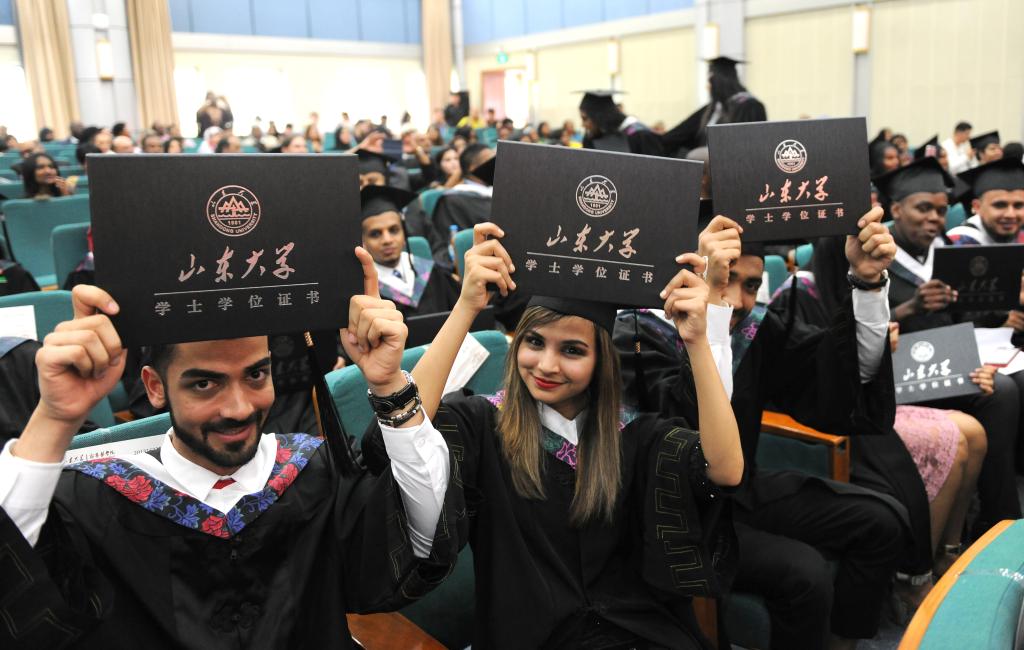 About Shandong University
Shandong University was established in 1901 and its medical school dates back to the year 1864 which was the beginning of modern Chinese higher education. Shandong University School of Medicine currently has 4 affiliated hospitals and 15 teaching hospitals. The Clinical Medical Program is one of the first programs to be labelled remarkable by the Ministry of Education. Currently there are 252 professors, 101 associate professors and 4400 students. Among them 2500 bachelors students, 1600 postgraduates and over 300 international students. As a national teaching center, the Medical Experimental Teaching Center of Cheeloo College has two teaching groups that focus on the following fields: Human Anatomy, Histology and Embryology on the one hand, and Basic Medical Experiment are national teaching groups, on the other. The 4 courses Systematic Anatomy, Human Parasitology, Physiology and Pharmacology are tailored for international students and taught in English.
About MBBS program( download MBBS.pdf

2021PDF.pdf )
Starting the program in 2002, Shandong University is one of the first universities to admit international students to the MBBS program (Bachelor of Medicine & Bachelor of Surgery) in clinical medicine. SDU was authorized by the Ministry of Education as demonstration base for international students in 2013. Currently more than 300 MBBS students study here with 34 different nationalities in Asia, Europe, America, Africa and Australia, etc. The six-year medical education will provide students with basic knowledge, skills and professionalism needed for medical practice. The compulsory courses are divided into general education, pre-medical courses, basic medical sciences and clinical medical sciences. Apart from the theoretical part, students will gain practical experience during a 48-week clinical rotation in the teaching hospitals. If students pass all the required courses and acquire enough credits, they will earn the degree Bachelor of Medicine or Bachelor of Surgery.
The program intends to foster competent physicians with a broad medical knowledge in the fields of medical science, clinical and preventative medicine. The program is taught and assessed in English. The program taught using different methods like lectures, small group discussions, laboratory classes and problem-based learning. We invite prominent foreign professors from other medical universities to give lectures. We aim to insure MBBS students are involved in clinical medicine as early as possible. Starting from the second year we offer a series of clinical courses and clinical rotation to enable the students to think and act as an early medical practitioner. Shandong University offers a friendly study and living environment for international students and comfortable on-campus accommodation.
The following courses are mandatory:
| | | |
| --- | --- | --- |
| Cell Biology | Behavioral Science | Internal Medicine |
| Human Anatomy | Medical Chinese | Surgery Medicine |
| Histology and Embryology | Human Genetics | Gynecology and Obstetrics |
| Human Physiology | Pathology | Pediatrics |
| Biochemistry | Pharmacology | Psychiatry |
| Molecular Biology | Pathophysiology | Neurology |
| Neuroanatomy | Diagnostics | Ophthalmology |
| Human Parasitology | Operative Surgery | Otorhinolaryngology |
| Medical Immunology | PBL | Dermatology |
| Medical Microbiology | Nuclear Medicine | Preventive Medicine |
| Medical Ethics | Medical Imagology | Pre-probation |
| Traditional Chinese Medicine | Infectious Diseases | Clinical Skills Training |
*Totally more than 60 courses
Duration of the program
The duration of the MBBS program is six years. Students should complete the program within a maximum of 8 years.
Who is eligible to apply?
Age: Over 18 but under 35.
1. Be in good health. People with infectious diseases (Hepatitis B, HIV, Tuberculosis etc.), chronic disease or other diseases which may affect the study process can apply only after they have recovered. People with mental disorders or psychological illness are not eligible to apply.
2. English language requirements.
- Applicants who are from inner circle countries (US, UK, Ireland, Canada, New Zeeland, Australia etc.) don't need to take an English language proficiency test.
- Applicants whose native language is not English, but their medium of instruction has been English in high school, need to provide an official certificate and don't need to take an English language test.
- Applicants who don't meet the exemptions above must provide TOEFL (80), IELTS (6.0) score or other equivalent English test results.
4. Applicants should have a high school diploma or above, with good academic scores in mathematics, physics, chemistry and biology.
How to Graduate?
Credit Requirements
Students must get a minimum of 131 credits. In addition, students need to pass Chinese, Medical Chinese, an introduction to China, pass HSK 4. Students should fulfill a 48-week clinical rotation and pass the graduation exam to graduate.
Scholarships & Supports
1. CSC Scholarship for Outstanding International Student
This scholarship is funded by the Ministry of Education in order to be consistent with the spirit of the National Educational Conference. Through this scholarship program students will get to know more about China and China will get to know more about the world. In this manner the talents of the future will be cultivated in China.
Funded by: Chinese Government
Scholarship type: One time grant of 18,000 RMB
Application time: June of each year
Application time: June of each year
2. SDU Freshman Scholarship for International Students
Funds by: Shandong University
Scholarship type: One time grant of 4,500 RMB
Application time: Before the 1st of November
3. The School of Basic Medical Science Scholarship
Funded by: The School of Basic Medical Science
Scholarship type: One time grant
1) First prize: 3,000 RMB
2) Second prize: 2,000 RMB
3) Third prize: 1,000 RMB
Application time: The school will award this scholarship to the students based on their grades.
4. Supports
The school may provide dormitory or office management assistant positions.
Tuition and Fees
| | |
| --- | --- |
| | RMB for each Academic Year |
| Tuition | 45,000 |
| Books | about 400 |
| Health Insurance | 800 |
| Other Living Expenses | Dependent on the student |
Registration fee: 400 RMB
Accommodation:600 RMB as a deposit
| | |
| --- | --- |
| | RMB per person per semester |
| Double room | 3,510 |
| Single room | 4,160 |
FOR TRANSFERS FROM YOUR COUNTRY
Foreign Currency Account Details: (USD only)
Account Name:"山东大学" Shandong University
Account No.:244206255768
Bank Name:中国银行济南历城支行 Bank of China, Licheng Branch
Swift Code:BKCHCNBJ51B
Bank Address:中国济南花园路84号 84 Huayuan Road, Licheng Dist.
Bank Number:104451040267
Post code:250100
Application Procedure
All the international students must make online application on the Online Application System for international students: http://www.apply.sdu.edu.cn.
STEP 1: Register your account and activate it.
STEP 2: Fill out the application and upload all required documents as follows
1. -Photo Page of Passport
2. -Proof of High School Graduation/Pre-Graduation Letter
3. -Official High School Transcript
4. -Two Letters of Recommendation from High School
5. -English language proficiency certificate (non-English speaking countries) including IELTS, TOEFL or other comparable certification of English proficiency.
6. -Personal Statement(in English)
7. -Proof that the student can afford the total costs (tuition, accommodation, living expenses).
8. -Foreigner Physical Examination Form (valid for 6 months)
9. -Proof of Employment (if applicable)
STEP 3: Submit the application and note your application number.
STEP 4: Check your admission status regularly.
STEP 5: You will receive your admission notice through e-mail after successful verification
STEP 6: Check your admission notice and pay* admission fees before the due date.
Bachelor and Master Students: Pay 400 RMB (application fees) + 2,000 RMB enrollment deposit. The enrollment deposit will be deducted from the tuition fee once the student starts his or her studies.
PS: This fee is non-refundable. Please check next page for SDU bank account details.
STEP 7: E-mail the receipts of payment to: admission@sdu.edu.cn
STEP 8: Receive originals of "Admission notice" and "JW202/JW201" by post.
STEP 9: Apply for VISA and send us your arrival information.
Contact Information
1. For admission Procedure issues
International Admission Office
Department of International Affairs
Email: admission@sdu.edu.cn
Tel: +86-(0)531 88364854
Website: www.istudy.sdu.edu.cn
2. For interview, academic etc. issues
MBBS Center of Shandong University
Email: mbbsadmission@sdu.edu.cn
website:http://www.mbbs.sdu.edu.cn/
Tel: +86-531-88382725